Ok, so my friend, Tori, is getting married in 11 days! I made this super cute "Est." picture for her to hang in her new place! I love this idea and think it is a perfect wedding gift. So, this pic will be shipped to me in a 8"x10" matte finish. I will then take it to Hobby Lobby and frame it. It says, "Ellenberg Est 2011"....
I personally love the "G" with the heart. :)
Then, I found a coupon code "MOMCARD", that allows you to make a mother's day card for FREE. Well, it just so happens that this code worked for my "Wedding Congrats" card!!! Shut up!!!! I went to Tori's facebook, downloaded this pic, plugged it in, annnnnd... special, personalized card from me!!!! :) How awesome is that?!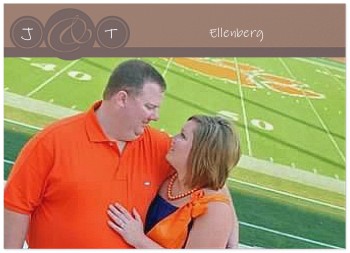 Initial Love Brown Wedding 5x7 folded card